Dallas Convention & Visitors Bureau Celebrates Exciting CityPASS Milestone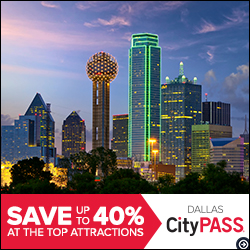 DALLAS – (Aug. 1, 2016) – The Dallas Convention & Visitors Bureau (Dallas CVB) is pleased to announce an exciting milestone in the Dallas CityPASS program – more than 45,000 units sold since the launch of the program last year. CityPASS, the company that packages discounted, prepaid admission to a city or region's top attractions, has been a great success for Dallas, with 45,000 passes sold representing nearly 146,000 visits to Dallas attractions.
"We've been thrilled with the success of the Dallas CityPASS program," said Megan Allen, CityPASS president and CEO. "A terrific attraction lineup combined with our wonderful partners at the Dallas CVB helped us to easily exceed our first-year sales goal."
Travelers to Dallas can use a Dallas CityPASS ticket booklet to save up to 41 percent off admission to the Perot Museum of Nature and Science, GeO-Deck at Reunion Tower, a choice between the Dallas Zoo and The Sixth Floor Museum at Dealey Plaza, and a choice between the George W. Bush Presidential Library and Museum and the Dallas Arboretum and Botanical Garden.
"Dallas CityPASS has been a game-changer for the local tourism economy," said Phillip Jones, president and CEO of the Dallas CVB. "Our goal is to market Dallas as the ideal destination for domestic and international travelers, and this program has been a great addition for tourists and the overall economic growth for the region."
Looking ahead, year two of the program is expected to show even more growth. May through July 2016 sales exceed 2015 sales in those months by 26 percent.
Each 2016 Dallas CityPASS ticket booklet retails for $46 for adults, $31 for children. Passes, which can be purchased online or at any of the CityPASS partner attractions, are valid for nine consecutive days, beginning with the first day of use. Visitors who use all of the booklet's tickets will save $31.32 on combined admission to the included attractions.
Please visit the CityPASS website for more information and to purchase passes.